A woman in her late 60s approached timidly one afternoon while Skylar and I were sitting in the park. "Is that a pit bull?" she asked. "Yes," I said. "This is Skylar. Do you want to say hello?" At first the woman shook her head no, but Skylar had already made her way over and was sitting in front of the woman, staring up with those big green bug eyes and that huge pittie grin. "She's beautiful," the woman said, extending her hand slowly. Skylar began licking her fingers and the woman smiled. "She's so sweet," she added and sat down on the bench beside me, where Skylar leaned gently against her leg. "She's not at all like the dogs I've heard about on the news," she said, stroking the top of Skylar's grey and white head. "You know, the ones that attack children. You never hear those stories about golden retrievers. Why do you think that is?"
"You don't hear those stories, but they do happen," I told her. "The reason you hear more about pit bulls is they are the most likely breed to get the worst possible homes; if there's an idiot who would leave a dog — any dog — with a child, 9 out of 10 times it's someone with a pit bull. Skylar is one of the rare lucky ones; she got a golden retriever home."
ACC's LIMITED RESOURCES
I adopted Skylar from San Francisco Animal Care and Control (ACC), the city's overworked, underfunded shelter. Across the street, the San Francisco SPCA has more than $70 million in the bank. Because it is a private organization, the SFSPCA can cherry pick the most adoptable dogs and cats from all over the country, and they don't take owner surrenders or strays. ACC must take every animal — dogs, cats, rats, pigeons, rabbits — on an annual budget of around $4 million. What ACC lacks in funding they make up for with a caring team of staff and volunteers, led by executive director Rebecca Katz. It was Katz who matched me with the "itty bitty pittie," an 8-week-old Skylar Grey, shortly after I lost my beloved Jazzy to cancer in September 2012.
MISUNDERSTOOD BREED
While many city shelter directors euthanize pit bulls as fast as they come in (nationally, only 1 out of 100 gets out alive), Katz is an outspoken, passionate advocate. "Pit bulls are misunderstood. They're the most abused, neglected, misused dogs we see in the shelter," Katz says. "Malnourished, left in backyards, abandoned, neglected … no breed goes through what these dogs go through."
Pit bulls are incredibly resilient — even dogs pulled from fighting rings can often be rehabilitated — but not all can be saved. ACC recently took in two pit bulls, a brindle male named Capone and a red nose female named Fiona, both suffering physically and emotionally from abuse at the hands of their humans.
CAPONE
Capone came to ACC after his owner went to jail. The man — known as "a frequent flyer" by the sheriff's office — assumed his brother would care for Capone, but his brother wanted nothing to do with it. When Capone arrived he was emaciated (3.5 on a scale of 10) and so frightened that he remained plastered to the corner of his kennel. He cowered when volunteers stood over him and was "hand shy" when they tried to pet him, classic signs of abuse. He had no interest in toys, no interest in food, and froze when volunteers attempted to leash him. But as time went on, volunteers noted that he became attentive and friendly once he knew them; he started fetching in the park and got along tremendously with other dogs.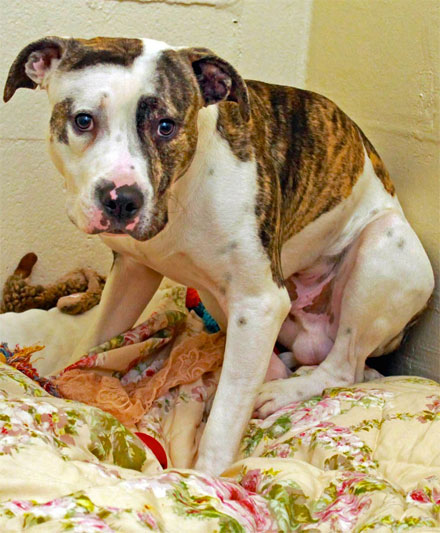 GIVEN A SECOND CHANCE
"When a dog has been abused, I feel like we need to give them that second chance that every dog deserves," Katz says. She began searching for a rescue or a volunteer to foster Capone. "I'm working on Mitch, one of our volunteers. He has a great pittie named Pork Chop and he recently fostered some puppies for us. He says if Capone and Pork Chop get along, he'll take him."
It's not the first time Katz has gone out of her way to place a pit bull. "We had Angel here five months," she says. "We all loved her — she was a great dog — but she just kept getting passed up. Steven Latham, the producer of the film Shelter Me, is a friend of mine and he is currently working on a film about transport. I said I would love it if he could take her. He asked, 'Can you get her to Livermore tomorrow morning?' and I said we would find a way. We did, and Steven transported her to Idaho where in two days a family named the Cleavers adopted her. 'The Cleavers' — how perfect is that?"
FIONA'S SAD FATE
Fiona came to ACC after witnesses who saw a man holding her off the ground by her leash and beating her in the face called police. At one point, the man pinned her to the ground and continued beating her. While Fiona, a strong, muscular dog with powerful jaws, could have easily turned on the man, she never fought back.
Whereas Capone cowered in fear in his kennel, Fiona shut down. She pulled away from physical contact and showed no interest in humans. She paced and panted and became aroused at the sight of other dogs and in the behavior testing room with staff members. When a volunteer managed to leash her, it took only moments for Fiona to come up the leash toward the volunteer's arm. She also whipped around toward the volunteer's hand when touching her flank and tail. During the dog-dog test, Fiona lunged without warning and snapped in the other dog's face. Back in her kennel, she was frustrated and highly stressed. The terrible abuse Fiona no doubt suffered her entire life had taken a tremendous toll, and saving her wouldn't be easy.
The homeless man who beat Fiona came to redeem her, but when volunteers refused he became angry and aggressive toward them. When he returned a second time, a staff member informed him that he was being charged with misdemeanor animal cruelty, but he left without signing the citation. Katz says it's unlikely anything will happen. "We had a case where a police sergeant saw a man throw a Chihuahua to the ground and the jury acquitted him, so with no visible injuries on Fiona, we won't get a case."
The ACC team continued searching for ways to save Fiona. They turned to Marc Henry, a renowned dog behaviorist who takes the toughest cases. "He's full; he has almost more dogs than he can handle," Katz says. They searched for sanctuaries, rescues, and foster homes, but Fiona's unpredictable behavior with humans and other dogs made her a poor candidate, and no one with the necessary expertise could be found. After exhausting every avenue, Katz made the difficult decision to euthanize Fiona. "We absolutely can't return her to the man who beat her; to the man who did this to her," Katz says. "It breaks my heart that after all she's been through this is the only outcome for her."
As Fiona's life slipped away, the man responsible for it was still walking the streets of San Francisco, free to find another pit bull to take her place.