One of my inside sources at San Francisco Animal Care and Control (ACC) contacted me to ask for help promoting the overflow of adoptable pit bull mixes at the shelter. All of the pitties at ACC have been behavior tested and passed with flying colors. In fact, my Skylar Grey came from ACC, and she is an absolute love bug with humans, dogs, and cats (pit bulls are one of the most cat-friendly breeds). Some of the pups at ACC look like they could be Skylar's relatives (especially sweet Gracie). While they're well aware of ACC's dog overflow problem (and have a pact to take all "healthy, adoptable animals" from the city shelter), the San Francisco SPCA still turned down these wonderful pit bull mixes, despite the fact they have been taking pit bulls from Stockton. "I don't understand why they're taking pit bulls from 50 miles away when they could be taking them from 50 feet away," one of my sources said. I couldn't agree more. Last time I checked, it was the San Francisco SPCA, not the Stockton SPCA (more on this story next month).
In the meantime, if you are one of the many readers who loved Jazzy or who have written to tell me that Skylar is winning your heart, please consider fostering or adopting a pit bull mix. They're loyal, intelligent, eager to please (therefore, easy to train), affectionate, and funny (hence the breed's nickname, "Clown Dog") and most are remarkably good with children (Jazzy adored kids more than anything on the planet). They can be high-energy playmates one minute and snoring couch potatoes the next (Jazzy had both down pat, as does Sky, who is snoring at my feet as I write this).
Here are just a few of the amazing dogs currently up for adoption at ACC. For more information on any of them, call 415-554-6364 with the ID number listed below the dog's name in this article. You can also drop in to visit the dogs (1200 15th Street, Sam Francisco, CA 94103) between noon and 6 p.m. every day (except Wednesdays, when the shelter is open an extra hour until 7 p.m.). So head down to ACC and ask to meet a pittie — once you do, I guarantee you'll understand why I love this breed so much.
Doc
ID A359818, male, 7 months
Wiggly-waggly pup Doc is an athletic and exuberant fellow who already knows "sit," has good leash skills, and a hilariously over-the-top play bow. This very friendly, smiley boy is a total catch and would love to continue his training with an enthusiastic owner, and perhaps even another dog friend to play with! A family with kids might be fine for Doc, too.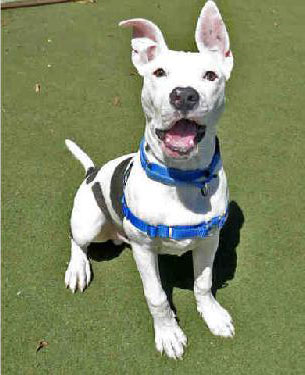 Gracie (aka "Skylar's Twin")
ID A352605, female, 1 year 6 months
Lovable, sweet gal Gracie is looking for her forever home. This gorgeous gal is a big fan of cuddles, ball chasing, and meet-and-greets with other social dogs. She already knows "sit" and can't wait to go to reward-based training classes to learn more. A family with kids might be fine for Gracie.
Champ
ID A355345, male, 1 year 4 months
Big handsome fellow Champ had a rough life before he came to the shelter, but he's been gaining weight, improving every day, and learning that life has many great things to offer. This lovely gent enjoys romps in the park, playing with toys, and walks by your side. Champ is looking for a home where he'll get lots of attention, a soft bed, and the love he so deserves. A family with older kids might be fine for Champ.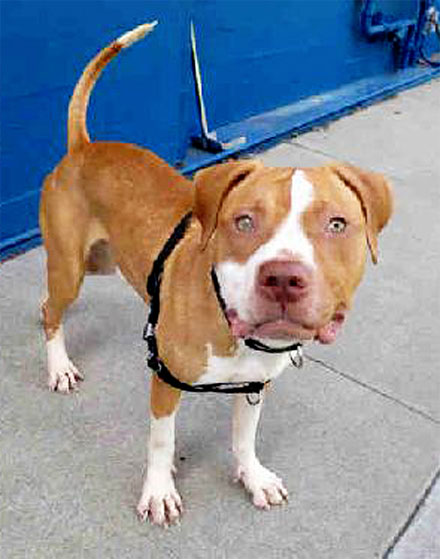 Ani
ID A355697, female, 2 years 6 months
Ani is a shelter favorite: She's confident, friendly and oh so sweet! She can't wait to be your sidekick for long walks about town, making new friends wherever you go. Ani is active and playful and loves to romp in the park and chase toys. Ani's adopters should take her to reward-based training classes where she's sure to shine. A family with children might be fine for Ani.
Cosmo
ID A358015, male, 6 months
Cutie pie Cosmo is a young diamond in the rough. With structure, training and time dedicated for play and exercise, he'll be the perfect companion. Cosmo is an exuberant, friendly puppy with the cutest slightly turned up nose (maybe there's some boxer in the mix?). He is looking for adopters with previous dog experience who will consult with an ACC trainer before taking him home. A family with older kids might be fine for Cosmo.
Nila
ID A360126, female, 5 months
Gorgeous Nila is the nicest pup you'll ever meet: everyone she encounters is a potential friend and cuddle partner! This happy gal loves to romp in the park and take long walks, hopefully by your side. Nila is smart and attentive; she already knows "sit" and is sure to be a superstar in reward-based training classes. A family with kids might be fine for Nila.