Despite the Chinese government saying otherwise, each June 21 the Yulin Dog and Cat Meat Festival takes place in Guangxi province as it has since the 1990s. Considered a celebration of the Summer Solstice, 10,000 dogs and cats arrive stuffed into cages, wrapped up in nets, and dragged on poles. Because it is believed torturing the animals makes the meat tender, cats and dogs are routinely clubbed, burned, skinned alive, boiled alive, and electrocuted. You can help end this barbaric event by lending your voice to the voiceless:
• Sign the petitions demanding the festival be stopped at care2.com (type Yulin in the search bar). You can also do an Internet search for "Yulin Dog Meat Festival petition" — there are several.
• Join the social media campaign on Facebook (type Yulin in the search bar).
• Visit the nonprofit Duo Duo Animal Welfare Project, which works tirelessly to stop the festival, at duoduoproject.org, where you will find more information on ways you can help stop this horrific event.
• Reach out to Gov. Jerry Brown, a dog owner and lover, and ask him why California named Guangdong (Canton) province in China its sister state when it accounts for 40 percent of the dog meat trade and 70 percent of the cat meat trade in China (that's approximately 4 million dogs and 2 million cats, many of them stolen pets). Call Governor Brown's office at 916-445-2841 or e-mail him (most effective) at govnews.ca.gov (click the Contact tab). …
On May 14, a savagely beaten pit bull puppy was found chained to a fence below the U.S. Highway 101 overpass near South Van Ness Avenue. San Francisco Animal Care and Control, which named him Maxmilian, reported that the 1- to 2-year-old male dog's injuries included blunt force trauma to his head and body, broken and missing teeth, severely injured paws with missing pads and nails, and burns from heat sources including cigarettes. Staff members said that despite the fact Maxmilian had been severely abused and was suffering incredible pain, he was still sweet and trusting, wagging his tail for everyone who came by his kennel. Even with the best of care, Maxmilian could not survive his injuries and, with his kidneys failing, ACC had to make the difficult decision to euthanize him.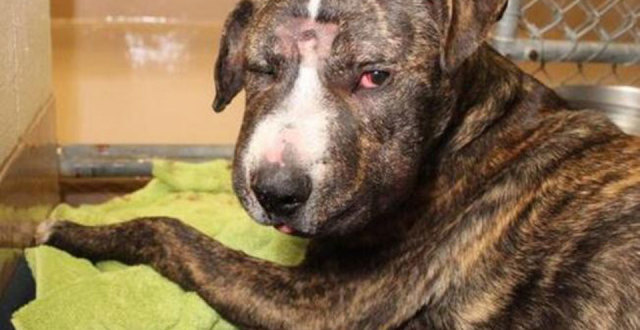 Maddie's Fund donated to the reward fund, which now stands at $10,000. For every hysterical media story you hear about a pit bull hurting a human, there are thousands of unreported incidents of humans hurting pit bulls. Maxmilian's case was one of the rare ones — too horrific even for the media to ignore. If you or someone you know lives or works nearby the crime scene and might have security video footage, it could be crucial evidence in finding Maxmilian's abuser. Please call ACC at 415-554-9400 and let them know. You can also make donations to the nonprofit Friends of ACC at helpacc.org. For nearly two decades, I have written about the indisputable connection between animal cruelty and cruelty to humans. I hope this monster is apprehended soon, not only for what happened to Maxmilian, but to prevent other animals — and humans — from suffering similar fates. …
Just a reminder that it's kitten season, and every shelter is overflowing with itty-bitty kitties. San Francisco ACC is among them and they need your help, from fostering to donating money and kitten food. Toni's Kitty Rescue (toniskittyrescue.org) finds foster homes for 800 kittens annually that are too young for adoption, and they always need more foster homes, volunteers, and donations. To reserve a spot in the next volunteer orientation, call 415-554-9414. Having hand raised and bottle-fed feral and abandoned kittens (my beloved Steven was one of them), I can promise it will be one of life's most rewarding experiences.