Anyone who reads the Pet Pages knows that I'm a lifelong pit bull parent and advocate. My beloved Jasmine Blue helped change the perception of pit bulls in her column with thousands of fans around the world, and Skylar Grey, who helped me through losing Jazzy to cancer, continues that legacy in her own column. While the media loves to sensationalize the few bad stories, you rarely hear the good ones — and there are a lot more of those, going back throughout history.
Pit bulls are not actually a breed but rather a type of dog that falls under the "bully breed" category. "Bully breeds" include all bulldogs (English, French, American, etc.), American and English Staffordshire terriers, bull terriers, bullmastiffs, and Boston terriers, among others. Many bully breeds are mixes. Labrador retriever/Staffordshire terrier is one of the most common (Porter, pictured top left, is likely a Lab/Staffie). These mixes are generically referred to as pit bulls.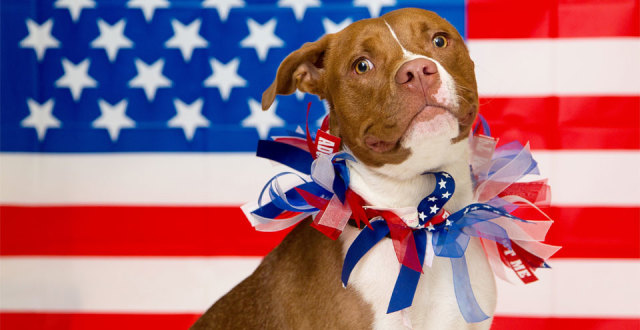 In the early 1900s, pit bulls were called "American terriers" and earned the moniker "Nanny Dogs" because they were known for loving and protecting their families' children. Though pit bulls are the most abused and neglected of all dogs, they are resilient, with a loving, forgiving nature. The National Canine Temperament Testing Association tested 122 breeds, and pit bulls placed near the top with a 95 percent passing rate — higher than golden retrievers.
There are some famous pit bulls as well as some famous pit bull owners. Sergeant Stubby was America's first canine war hero — he earned several medals during World War I and was honored at the White House. Petey, the faithful piebald pooch from The Little Rascals, was a Staffordshire terrier. Helen Keller and Presidents Theodore Roosevelt and Woodrow Wilson had pit bulls. Many modern celebrities also have pit bulls, including Rachael Ray, Jon Stewart, Justin Timberlake and his wife Jessica Biel, and Big Bang Theory star Kaley Cuoco.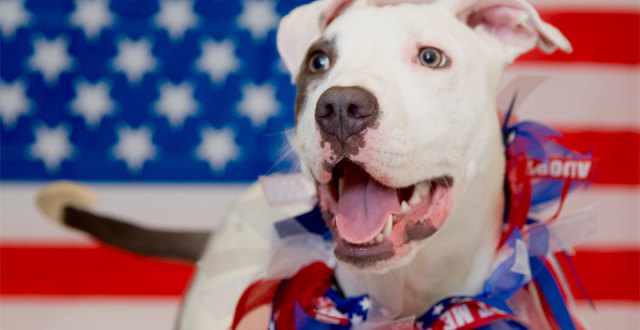 During the month of July, our city shelter, San Francisco Animal Care and Control (ACC), is celebrating and promoting "America's Dog" — qualified adopters will have adoption fees waived and receive free training classes with their new best friends. ACC is also featuring patriotically dressed pitties as part of a Facebook contest where you could win a trip for two anywhere in the United States courtesy of Virgin America Airlines just for submitting a photo of you and your pit bull companion (facebook.com/SanFranciscoACC).
If you're considering adopting a dog, please head down to ACC this month and meet some of their wonderful, available pitties (I found Skylar at ACC, and she's pretty wonderful indeed).
Animal Care and Control: 1200 15th Street, San Francisco, CA 94103. For more information, call 415-554-9427 or visit ACC online: facebook.com/SanFranciscoACC; twitter.com/SFACC; sfgov.org/ACC.